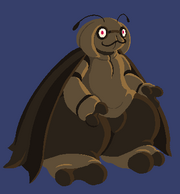 Adiba is another of
Pix's
children, and is the smart fellow of the group, often coming up with plans for his mother and siblings to follow.
Adiba himself is rather young acting, and often doesnt' focus on his own plans. Most of the time, he'd rather slap together silly gadgets or study the oddities of the candyverse.
The relationship between him and Pix is a bit tense, he is completely subservient to his mother, yet knows she's not exactly the smartest of people, especially compared to him, yet goes rather quiet when she challenges his intellect.
Adiba is good friends with his brothers Catabeat and Sliss, the former often hanging out with him, not particularly being helpful, but seeming interested in whatever adiba might be doing. The relationship between himself and his brother Sliss is more carnal.
Ad blocker interference detected!
Wikia is a free-to-use site that makes money from advertising. We have a modified experience for viewers using ad blockers

Wikia is not accessible if you've made further modifications. Remove the custom ad blocker rule(s) and the page will load as expected.